School Meals

In 2008 we gained Healthy School status. We actively promote a healthy lifestyle across the school by modelling good practise and by having high expectations. These expectations are also mirrored in the quality of food and drink we encourage in school.
Our school meal menus rotate on a three-week cycle, and can be read below:
Sandwich bar option is only available to pupils in Reception and KS1.

School meals are provided by Educaters (formally known as Warwickshire County Caterers).
All pupils in the Reception, Year 1 and Year 2 receive a school meal at no cost through the Government's Universal Free School Meals programme. Although the children will not have to pay for school meals it is important that you still register for free school meals if you are eligible (families in receipt of Income Support or other specific benefits). This is because schools are able to claim a Pupil Premium of up to £1455 per child on free school meals to make sure each school's budget matches its community's needs. Parents can apply online on the Warwickshire Direct website or call 01926 359189 to apply or contact us for further information.
Meals for children in Years 3 to 6 are provided at a cost of £2.50 per day from April 2023.
Children may bring a packed lunch in a named container.
Children are encouraged to bring a separate plastic water bottle every day. Fresh drinking water is always available.
All Reception and Key Stage 1 children are given a piece of fresh fruit after morning playtime. Key Stage 2 children are encouraged to bring their own fruit.
Parents can register their children for the Cool Milk scheme, which is free for the under 5's.
School Cookery Club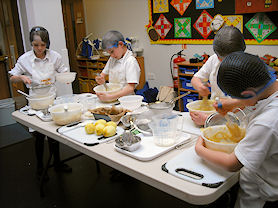 Cookery Club members working hard.
Our school cookery club started in January 2010. It is a five week course offered to groups of Key Stage 2 children. It aims to broaden understanding of basic food preparation and general cooking skills in a relaxed and creative setting.
Below is a selection of our recipes - please try them: