Forest School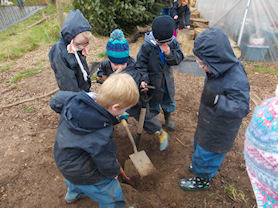 The philosophy of Forest Schools is to encourage and inspire children through positive outdoor experiences. Working together in the outdoor environment develops their self-sufficiency, cooperative and problem solving skills and promotes their confidence within the classroom.
At Bidford on Avon Primary School our Forest School sessions take place on site. We have a large forest school area which has been developed over a number of years with the help of the local community and the environment agency. Willow structures, a gazebo, a mud pit, a log circle and a range of trees, grasses and shrubs help create an exciting wildlife area which children love to explore.
The site is left as natural as possible but offers a range of areas for the children to explore and work in. The children wear protective waterproofs and wellies to allow them to access the outside whatever the weather and Forest School sessions take place throughout the year come rain or shine!
The children walk around the school grounds to observe seasonal changes within the environment stopping to listen to different sounds. There is always so much to see and talk about throughout the different seasons.
The Forest School offers the children the opportunity to develop all areas of the learning with a big emphasis on speaking and listening. The children can dig or work in the mud kitchen, measuring and learning about capacity. They can mix mud paint to create masterpieces and collect things to make woodland homes for creatures.
The children love to build dens, go bug hunting and have also lots of opportunities to practise large motor movements, climbing on logs and rolling down the grassy banks.