Pupil Voice
We actively encourage pupils to take responsibility for the welfare and running of the school and believe that 'pupil-voice' is a vital part in developing our school vision.
School Council
Bidford School Council is in its third year. A boy and girl are elected each year group from Year 2 to Year 6. Meetings take place throughout the term. School council members represent their class in organising, planning and discussing ideas to take place in school.
House Captains
All pupils at Bidford School are members of a house, Saturn, Neptune, Mars and Jupiter. Two Year 6 pupils from each house are elected every year as representatives. These pupils take an active part in all school routines and activities.
School Managers
Pupils support the day to day running of the school. Year 6 pupils are given a different managers post each term They undertake such responsibilities as register distribution, music, hall, fruit and corridor tasks. A real help!
Young Leaders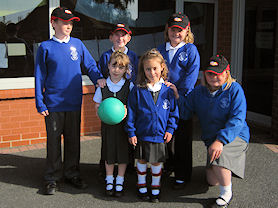 Each Year 6 pupil has the opportunity to become a Young Leader. Pupils follow a six week programme of training that examines aspects of leadership such as communication, responsibility, health and safety and organisation.
Once trained our Young Leaders organise and lead small groups of Key Stage 1 pupils.
Playtime Pals and Breaktime Buddies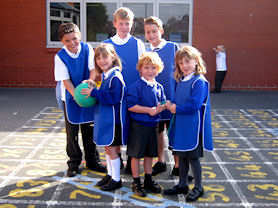 Playtime is great fun at Bidford primary School. There are many activities on offer and equipment such as balls, ropes and quoits to play with. Playtimes are well supported by staff and pupils who take it in turns to help keep everyone happy.
Playtime Pals in Year 2 and Breaktime Buddies in Year 5 wear blue tabards so pupils know who to go to for help.
Blue Banders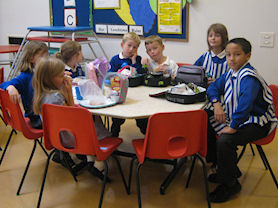 Year 6 pupils support lunchtime activities and supervision.
Six pupils wear striped tabards and support the youngest pupils in school at the lunch table and then support them further out on the playground.
Safety Officers
Two pupils are chosen by staff to undertake this responsibility. These pupils hold meetings, set competitions and provide information to the school community about keeping safe including internet, road and fire safety.
Science Committee
Pupils in Key Stage 2 are able to apply for a position on the Science Committee at the beginning of each academic year. The committee participates in extra-curricular activities, attend regular meetings and promote an enthusiasm for science in and beyond school